Class 4 - Autumn 2020
Class 4 have been learning that materials have different properties and have been carrying out a wide range of investigations to materials. This module will continue into the Spring term 2021.
This term they have discovered that some materials are better thermal insulators than others by carrying out an investigation into which materials kept water the hottest for the longest. They also found that some materials have a better tensile strength than others and undertook an experiment to find out which sweet candy had the best strength when pulled. Below are a selection of images taken from these investigations.
Class 4 enjoyed discovering about the Ancient Maya Civilisation. They learned about the layout of a Mayan city including the palaces, houses and temples. The children then had a go at making their own clay pyramids and temples in design and technology before writing instructions about how to make them in English.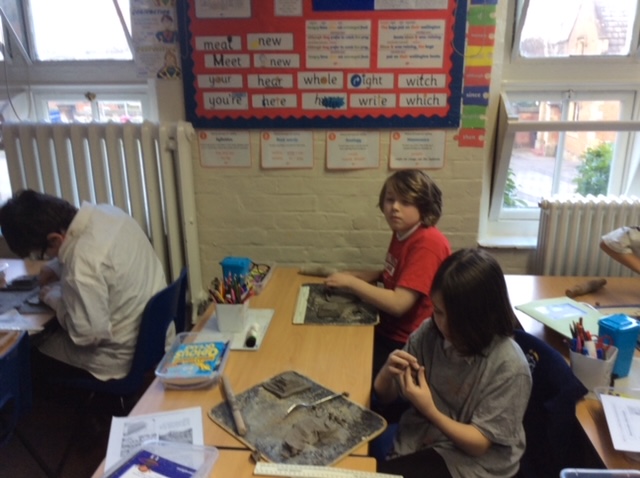 Class 4 spent some time being reflective and thoughtful making poppies to go onto our class display of a soldier ready for Remembrance Day. If you would like to find out more about the history of the poppy click here to watch a video.
At 11:00am on the 11th Day of the 11th month (Armistice Day) we gathered outside as a whole school to hold our 2 minutes of silence in memory of those soldiers who have sacrificed their lives during WWI, WWII and other conflicts since.
Class 4 have really enjoyed learning about Earth and Space for the first half of the Autumn term. They have discovered: the names of the planets and made their own mnemonics to remember the order of them from the sun; how the earth rotates and orbits the sun to give us day and night; found out facts about the different planets; learned all about the phases of the moon and that Neil Armstrong was the first man on the moon. We have even had time to make some moon rock and create some pictures in the style of the abstract artist Peter Thorpe.
How can following God bring Freedom and Justice?
In RE we have been learning all about how Moses saved his people from Egypt and how he listened to God throughout his missions to free the slaves. We have then thought about how charities help show God's love and bring freedom and justice to the world. The children then worked in pairs to invent a new charity organisation before presenting it to the rest of the class. They had to reflect God's teaching in their charity organisation and also state how they would bring more freedom and justice to the world with the work that they would do. Here are the children presenting their charities to the rest of the class.
Key information for parents
Weekly timetable
Click here for a timetable showing a typical week in Class 4 during the Autumn Term.
Termly Overview
Click here to find out what your child will be learning during the Autumn term.
Spellings and Grammar
It is expected that by the end of Year 6 children should know all of the spellings from Years 5 and 6 but also those from Years 3 and 4. This includes reading them accurately, spelling them correctly and using them within their written work. Children will revise these spellings and spelling rules throughout English lessons and through their weekly spelling tests. Click on the links below to practise the words with your child.
Children receive weekly spelling lists on Friday mornings which are stapled into their planners. They then have a week to learn them as they are tested the following Friday at the beginning of the English lesson. It is an expectation they score above 7 out of 10.
We also learn a lot of grammatical terms as part of English lessons during the year. Click here for a glossary of the different terms which may support you with your child's homework and learning.
Reading
Children continue to read books which are book banded in Class 4. It is an expectation that they read their books at least three times before changing them. Please record in their planners when they read and sign it so points can be given for their reading on the reward chart found at the back of their planners. Children can read both their school book and their own books at home although I do expect to see both recorded in their planners.
P.E.
PE is held on a Wednesday afternoon. This year children in Class 4 will need to come to school in their full PE kit. This should be shorts or jogging bottoms, a t-shirt, a jumper or fleece (not school jumper) and trainers suitable for outdoors. Remember we are getting towards winter so please think about suitable and appropriate clothing for your child. Due to lack of hall space, children are expected to take part in outdoor PE and will do so in all but the most extreme weather so wrap up warm! Please ensure all kit is clearly labelled with your child's name.
Swimming
Swimming is on Tuesday mornings. Your child should have received a letter regarding swimming and permission forms to sign. Below are links to these letters and information regarding swimming lessons:
Swimming letter 2020 including permission form
Goggles information and permission form
Parental information and guidance regarding swimming lessons
New to Year 5 and Year 6 Transition Information
As we have now started back at school I have moved all the transition information onto a new page on the website, you can find it by clicking here.