What happened in Class 4 during the Spring Term?
Residential to Scarborough
On Wednesday 11th - Friday 13th March Years 4, 5 and 6 went to Scarborough for this year's residential visit. Below are a selection of photographs showing the fun we all got up to!
Wednesday
After a 3 hour bus journey we arrived at Green Gables, unloaded the coach, ate lunch and had time to play on the park in the beautiful, spring sunshine.
Then it was a short walk down to the beach before a steep climb up to the caste.
Unfortunately when we reached the top of the hill the castle had been closed due to the high winds. However, this did not stop us from having fun. We walked down by the side of the castle to enjoy the views before walking along the promenade and onto the North Bay beach. Here we had a sandcastle competition before having a bit of fun on the sand.
After deciding on the winner of the competition it was time for a trip on the open top bus which would take us on a tour of the seafront to the South Bay. From here we walked back to the hotel for our evening meal before an action packed evening in the arcades finished off with some chips at the seaside!
Thursday
What a glorious, albeit windy, day for a 5 mile walk from Cayton Bay to Filey along the Cleveland Way.
Along the way, whilst enjoying the views, we had some excitement of seeing some seals basking in the sun and also going for a dip in the water. You might just be able to make them out on these two photographs.
The end of the 5 miles - we had reached Filey!
After a quick pit stop of lunch we descended down off the cliff and onto the beach. Here we held a competition to see who could make the best 3D sculpture out of rocks and other natural debris found on the beach. There was some fantastic team work and we had sculptures which included Stonehenge, St John's CofE Primary school and also some very interesting animals.
Then it was time to head back to Scarborough on the train from Filey train station - I think there were some relieved feet and legs to have a sit down after the 5 mile walk!
When we arrived back at the hotel, as the sun started to set on a busy day, there was just enough time for a quick play on the park, before showering and then enjoying our evening meal.
We even had time to celebrate Laura's 11th Birthday with a round of 'Happy Birthday' and a slice of delicious chocolate cake!
The evening on Thursday was finished with a trip to Bridlington swimming baths where lots of fun was had in the splash zone, on the slides and in the pool.
Friday
The time had come to wave farewell to Scarborough but not without one last time on the beach, some souvenir shopping, a quick paddle in the freezing cold North Sea and a bite of lunch.
In science Class 4 learnt all about forces. We first learned about how Sir Isaac Newton first discovered gravity by investigating how an apple fell from a tree and how gravity helps keep us on the ground. We have carried out a range of investigations discovering the impact of different forces acting on different objects.
We discovered that friction is a force which slows objects down. We tested this out by looking at how much friction is caused on different surfaces, inside and outside, by the soles of our shoes. We tested this out by pulling our feet backwards and measuring the force using a force meter. We found out the more grip a shoe has the greater the force of friction and that a smooth surface creates less friction.
We also learned that air can be a force that slows objects down but also helps things to move. We tested out the effect of air resistance on paper helicopters by changing the shape or size of them to see whether we could speed up or slow down the speed at which they fell to the floor. We also tested how windmills are turned by the power of air as a push force and then tested how the design of the sails can affect the speed at which they turn.
During the Autumn term Class 4 "visited" Mexico. They learned about the country in terms of location, population, biomes and weather. The children also discovered more about the Mexican culture of fiestas and food. We ended the topic with a fiesta day on Friday 14th February. The children were asked to come dressed in a Mexican themed costume and we took part in a range of Mexican themed activities during the day. The activities included baking Mexican food before writing instructions for how they were made; making 3D skulls inspired by the fiesta 'Day of the Dead'; Mexican dancing to a Mariachi band; and trying some Mexican food - including the food we made ourselves!
Making chunky tomato salsa and Mexican Bizcochitos (Crusty Sweet biscuits).
Mexican dancing! We watched some videos of the types of dances that Mexicans take part in during their fiestas before working as a group to put together our own Mexican dance sequence.
The day ended by trying some Mexican food which included: chilli con carne, spicy Mexican rice, chunky tomato salsa, guacamole and tortilla crisps followed by our Mexican Bizcochitos.
What happened in Class 4 during the Autumn Term?
Harvest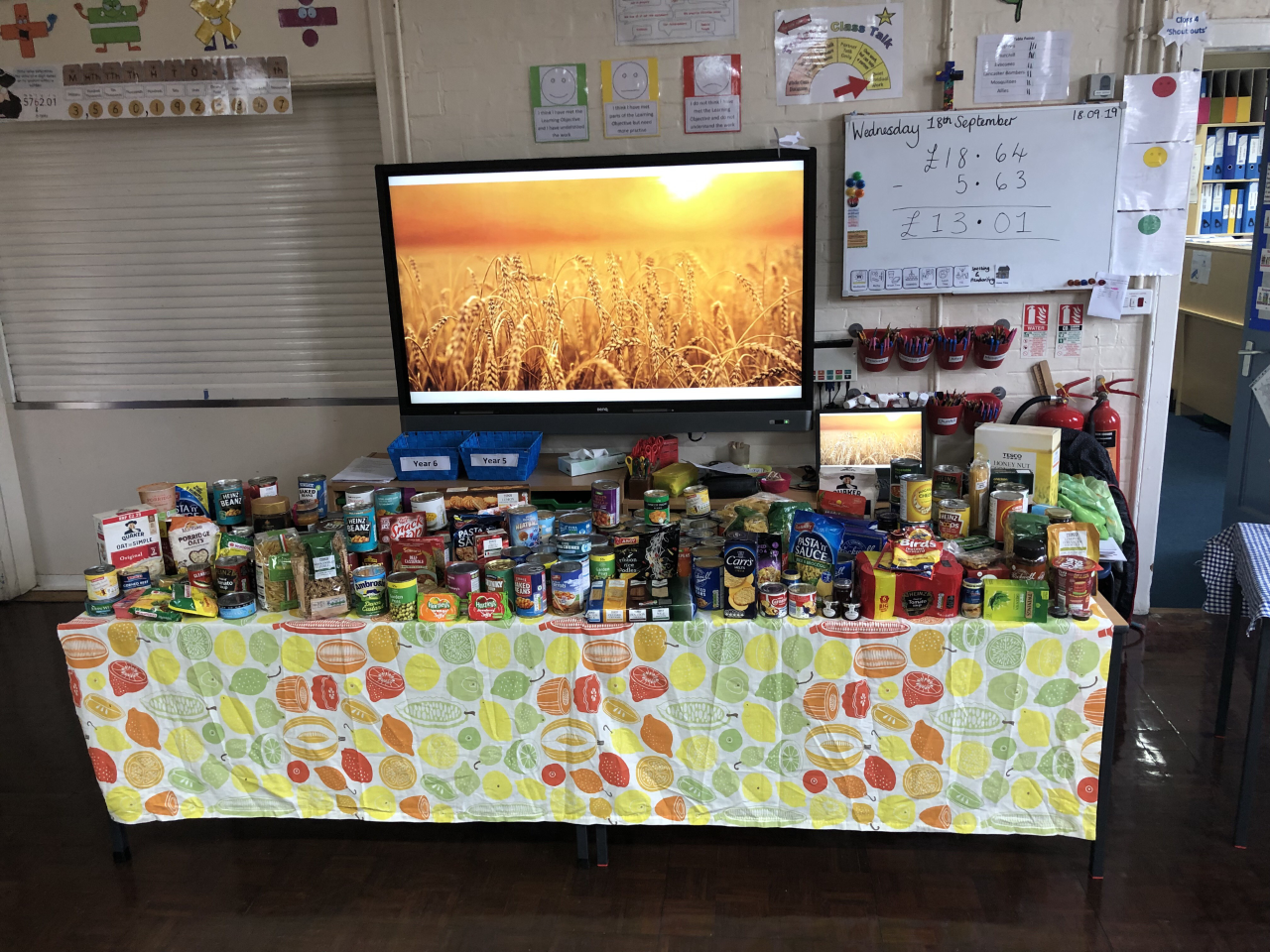 Our Harvest Festival was on Wednesday 18th September in which songs and hymns were sung plus readings and poems were heard. As part of the service Class 4 wrote and read some prayers. Why not click here to read some of them?
Thank you for all your produce you donated to go to the charity Canaan Trust which supports homeless men in Long Eaton and the surrounding area.
Safety Zone Trip - Thursday 19th September 2019
On Thursday 19th September Class 4 went to The National Water Sports Centre to take part in their National Safety Zone fortnight. During the afternoon Class 4 spent time with different emergency and community providers on how to keep themselves and others safe.
The children had advice given to them from: St John's Ambulance on the recovery position; The NHS paramedic team on resuscitation; Road Safety on the importance of wearing seat belts; The Fire Service on how to prevent fires in our homes; Nottingham City Transport on how to wait and board a bus safely; The Police Force on knife crime; The National Grid on the importance of staying away from electric hubs; RNLI on water safety and the PDSA on keeping safe around animals particularly dogs. Here are some pictures of the different activities and sessions they attended.
Learning the recovery position.
The Road Safety Team brought along a car and bean bag people to demonstrate the importance of wearing seat belts in case of a car accident.
The Fire Brigade team set up a flat which had several hazards that would cause a fire for the children to identify.
The PDSA spoke about how the positions of animals can show us whether they are friendly or about to attack and how we can become a tree or stone for safety.
Nottingham City Transport brought along a double-decker bus for us to learn about keeping ourselves safe when using public transport.
Class 4 discovered that World War II was between 1939 and 1945. They learned that Great Britain was led by two Prime Ministers - Neville Chamberlain and Winston Churchill - and that Germany's leader was Adolf Hitler. Class 4 listened to the declaration of war speech by Neville Chamberlain and then wrote their own speeches. Why not click here to listen to the declaration of war speech? They have also spent time researching Winston Churchill to write biographies about his life. Using their geographical skills they plotted which countries, and it what order, were conquered by Germany before they took to the skies in The Battle of Britain. Class 4 have discovered the reasons why cities were bombed by the Luftwaffe and then created their own Blitz skyline pieces of artwork. We have also been reading Goodnight Mr Tom and learning what it was like for evacuees.
Here are some pictures of the Blitz skylines the children created.
We also had great fun celebrating the end of the war by holding our own VE day. The children wore red, white and blue. During the activities we mapped out the end of the battles in Europe using play dough and a map of Europe and made an origami peace dove, before taking part in our own street party waving Union Jack flags. Here are some pictures taken on this day.
Class 4 had great fun learning all about Volcanoes and Earthquakes. During this module the children learned that the earth is made up of four layers - the inner core, outer core, mantle and crust. They discovered that the crust is made up of pieces of earth called tectonic plates which are constantly moving and when these collide or rub against each other this then causes an earthquake. The children learned more about how they move by using polystyrene cups, water and a tray.
Class 4 also had a go at making their own seismographs before testing these out and judging how strong their earthquakes were using The Richter Scale.
We spent time researching how buildings are designed to withstand the force of earthquakes before building our own structures using spaghetti, straws and marshmallows. Some of these buildings/structures were better designed than others however good team work was used during the planning and building processes.
Class 4 also learned how volcanoes erupt by the build up of pressure and magma below the surface of the earth and erupted their own volcanoes using bicarbonate of soda and vinegar.
They then showed the inside of volcanoes by creating a piece of artwork based on the work of Margaret Godfrey using tissue paper.