Class 4
Welcome to Class 4. We are a mixed class of Year 5 and 6 children and our teacher is Miss Morrell. Other adults who work in the class are Mrs Truby and Mrs Groves.
I hope you will enjoy reading this page to find out information about life in Class 4 and what we have been learning.
Key information for parents
Weekly timetable
Click here for a timetable showing a typical week in Class 4 during the Autumn term.
Termly Overview
Click here to find out what your child will be learning during the Autumn term.
Spellings and Grammar
It is expected that by the end of Year 6 children should know all of the spellings from Years 5 and 6 but also those from Years 3 and 4. This includes reading them accurately, spelling them correctly and using them within their written work. Children will revise these spellings and spelling rules throughout English lessons and through their weekly spelling tests. Click on the links below to practise the words with your child.
Children receive weekly spelling lists on Friday mornings which are stapled into their planners. They then have a week to learn them as they are tested the following Friday at the beginning of the English lesson. It is an expectation they score above 7 out of 10.
Spelling Shed
Children have the opportunity to practise their spellings at home using Spelling Shed. This is an online website where the weekly spellings will be uploaded for the children to access at home. Each child has their own username and password which has been stapled into their home to school planners. Children should use this information to then log onto the website to play games and practise their spellings.
Click on the image to gain access to the login page for Spelling Shed.
We also learn a lot of grammatical terms as part of English lessons during the year. Click here for a glossary of the different terms which may support you with your child's homework and learning.
Reading
Children continue to read books which are book banded in Class 4. It is an expectation that they read their books at least three times before changing them. Please record in their planners when they read and sign it so points can be given for their reading on the reward chart found at the back of their planners. Children can read both their school book and their own books at home although I do expect to see both recorded in their planners.
Important messages and key diary dates
Tuesday 5th November
Please ensure your child brings to school their full swimming kit.
VE Day celebrations for the end of World War II module
Key dates for your diary:
Monday 4th November - INSET day
Tuesday 5th November - school re-opens for children for Autumn Term 2
Tuesday 5th November - swimming
Monday 11th November - Year 6 Flu vaccinations
Tuesday 12th November - school disco at St Helen's Church Hall
Tuesday 19th November - Last swimming lesson for Class 4
Friday 22nd November - Skipping workshops
Tuesday 26th November - Indoor PE commences for Class 4
Friday 29th November - afternoon - Whole school trip to the pantomime
Friday 6th December - Christmas Fair
Tuesday 10th December - Last indoor PE lesson before Christmas
Friday 13th December - Christmas Jumper Day
Tuesday 17th December - Nativity Service at St Helen's Church
Wednesday 18th December - Christmas Dinner Day
Thursday 19th December - Christmas Party - afternoon
Friday 20th December - Christmas Carols around the tree
Friday 20th December - Break up for Christmas
6th January 2020 - return to school
Useful links
BBC Bitesize has useful games and activities to read and play to help with some key areas of learning. Click here to load the page.
Class 4 find remembering their timetables challenging. There are some useful games on multiplication.com which may prove helpful to some children.
Topmarks is also a useful website to help you practise some key maths skills.
Harvest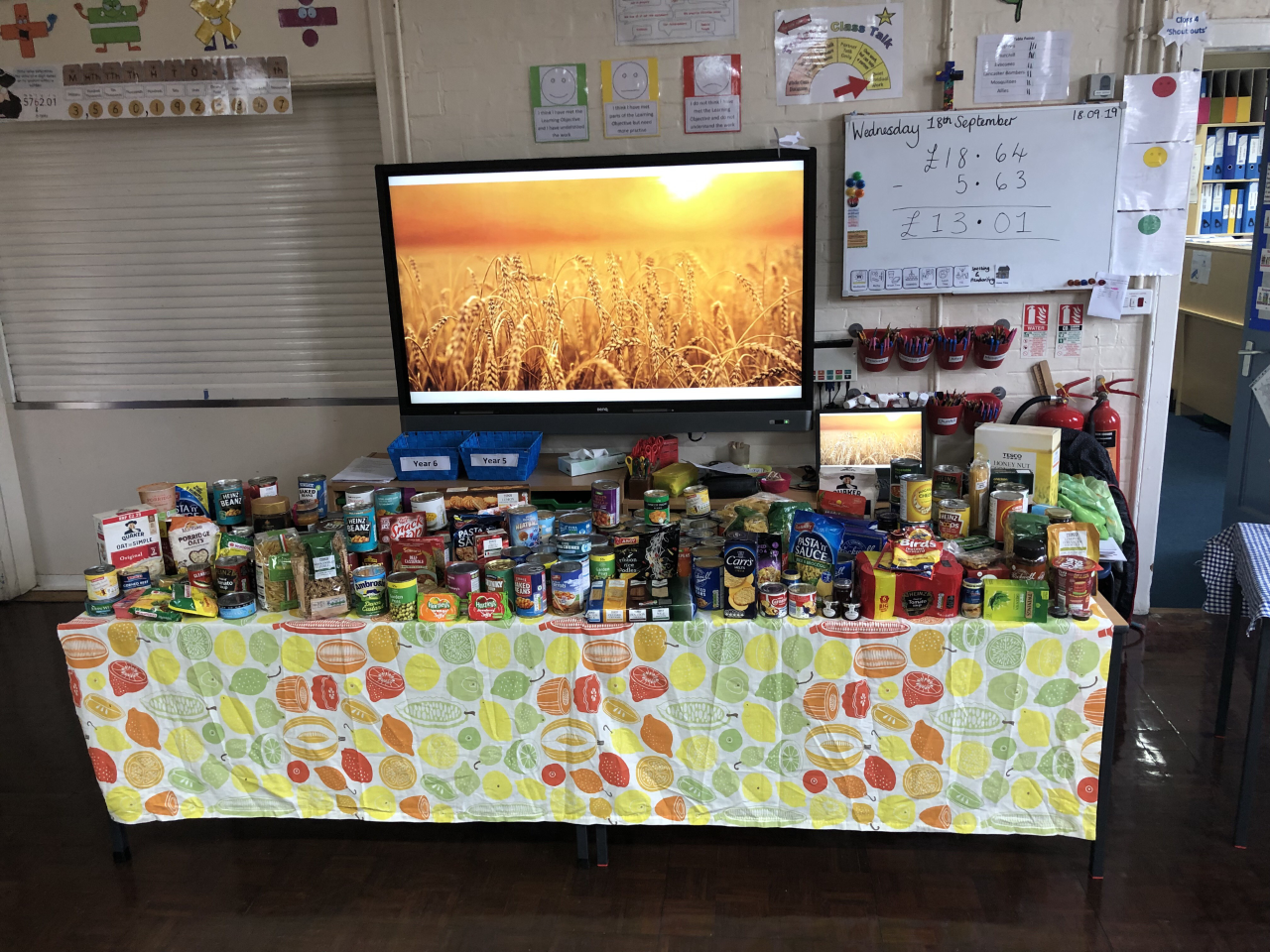 Thank you for all your produce you donated to go to the charity Canaan Trust which supports homeless men in Long Eaton and the surrounding area. Our Harvest Festival was on Wednesday 18th September in which songs and hymns were sung plus readings and poems were heard. As part of the service Class 4 wrote and read some prayers. Why not click here to read some of them?
Safety Zone Trip - Thursday 19th September 2019
On Thursday 19th September Class 4 went to The National Water Sports Centre to take part in their National Safety Zone fortnight. During the afternoon Class 4 spent time with different emergency and community providers on how to keep themselves and others safe.
The children had advice given to them from: St John's Ambulance on the recovery position; The NHS paramedic team on resuscitation; Road Safety on the importance of wearing seat belts; The Fire Service on how to prevent fires in our homes; Nottingham City Transport on how to wait and board a bus safely; The Police Force on knife crime; The National Grid on the importance of staying away from electric hubs; RNLI on water safety and the PDSA on keeping safe around animals particularly dogs. Here are some pictures of the different activities and sessions they attended.
Learning the recovery position
The Road Safety Team brought along a car and bean bag people to demonstrate the importance of wearing seat belts in case of a car accident.
The Fire Brigade team set up a flat which had several hazards that would cause a fire for the children to identify.
The PDSA spoke about how the positions of animals can show us whether they are friendly or about to attack and how we can become a tree or stone for safety.
Nottingham City Transport brought along a double-decker bus for us to learn about keeping ourselves safe when using public transport.
What are Class 4 currently learning?
Class 4 have discovered that World War II was between 1939 and 1945. They have learned that Great Britain was led by two Prime Ministers - Neville Chamberlain and Winston Churchill - and that Germany's leader was Adolf Hitler. Class 4 listened to the declaration of war speech by Neville Chamberlain and then wrote their own speeches. Why not click here to listen to the declaration of war speech? They have also spent time researching Winston Churchill to write biographies about his life. Using their geographical skills they have plotted which countries, and it what order, were conquered by Germany before they took to the skies in The Battle of Britain. Class 4 have discovered the reasons why cities were bombed by the Luftwaffe and then created their own Blitz skyline pieces of artwork. We have also been reading Goodnight Mr Tom and learning what it was like for evacuees. Watch out for some examples of all this work over the next few weeks.
In science Class 4 will be learning all about the changes humans and animals take from a baby into adulthood. They will also learn about key body systems and how they work as well as how diet, exercise and drugs can have an impact our bodies. Watch out for more information when the new term gets underway.
Click on the links below for previous learning in Class 4
What did Class 4 do and learn during the Summer Term 2019? Click here to find out.
What did Class 4 do and learn during the Spring Term 2019? Click here to find out.
What did Class 4 do and learn during the Autumn Term 2018? Click here to find out.